Escape to our one-of-a-kind Historic Boutique Inn, the Lavender Inn, built in 1874. We are THE best location of all the accommodations in Ojai, across from galleries, shops, and restaurants. We offer a Continental Breakfast with Organic coffee, house-made baked item du jour, and fresh fruit. You can go across the street to many of our unique restaurants or bring food back to dine on our veranda overlooking our elegant gardens. The interior of the Inn is thoughtfully appointed and artfully designed with with a blend of antiques, art and modern but comfy furnishings. Whether you envision a romantic retreat, a peaceful respite, a girlfriends' getaway, or an outdoor adventure, you can experience our affordable, comfortable luxury.
OJAI'S LAVENDER Inn hosts stunning Garden Weddings, Cottage Weddings and Elopements.  During COVID we were limited to micro weddings, but now we are thrilled to be booking large weddings with less than 100 guests..
Our OJAI CULINARY SCHOOL, cooking classes, are currently delayed, but we hope to schedule them soon in our kitchen with selected visiting cooks and chefs on periodic Sundays at 1:00. Private cooking classes with prior arrangements will be customized prior to our first public cooking classes.
At our onsite day spa, SPA AT THE LAVENDER INN, we offer massages and facials in the detached building in front of the Inn. Massages outside in our private Garden Massage Gazebo are very popular with guests and locals.
We are proud to have founded InnCourage, a free 3-day retreat for under-served women undergoing treatment for cancer.
At the Lavender Inn and Spa we realize our Innkeepers play a critical role in shaping our guests' best possible experience. We assist with celebrations, ranging from Elopements to our simple "Treat Her Right" package if you visit for an Engagement, Anniversary or a Birthday. The innkeepers are happy to assist with special requests or suggest activities to do around Ojai.   The innkeepers strive to make a lasting impression, focusing on comfort and guest service, and that is why we've had so many returning guests over the years!
"Love is the Beauty of the Soul. There is a lot of Love here."
Music Festival Return Guest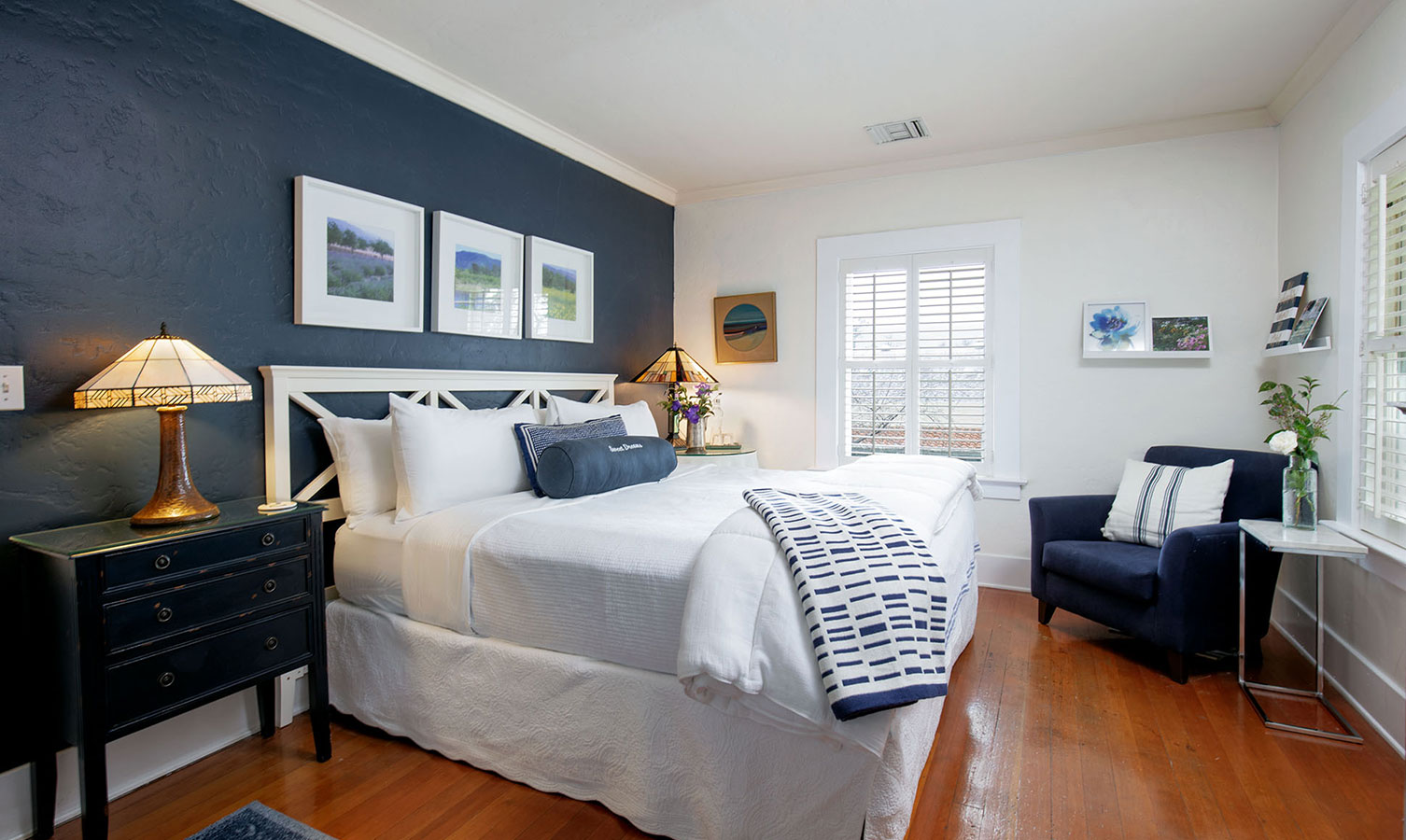 Amenities include a complimentary wine hour in the evening, free Wi-Fi in all the rooms and common areas, hair-dryers, 2 cozy/crisp robes, plush towels, and an iron with an ironing board upon request. Inquire about our use of the pool at the Ojai Athletic Club. And, of course, access to our Lavender Inn Day Spa, right outside our front door!  Even better, we now have an outside private room in our Garden Massage Gazebo for single or couples massages!
Lavender Inn is a magical destination wedding with our stunning, colorful gardens under majestic oaks, small pond with waterfall and the scenic backdrop of the nearby Topa Topa mountains. Create your own Wedding Story by booking out the entire Inn exclusively where family and friends are a part of the celebration during your stay.  We can accommodate up to 100 wedding guests with the venue customized to make your dreams come true!   Our Wedding Planner, Beth Keenen, is on site and can help you plan your perfect Wedding Event, for an additional fee.  Call 805.646.6635 or email Beth at [email protected].
I always feel SAFE when I'm @Home
To anyone looking for a quiet safe retreat during these crazy times, I HIGHLY suggest the oh so charming Lavender Inn. I have been coming for years and had no clue what to expect. I am happy to share that I felt super SAFE and the charm was not lost. The fun part was being to enjoy my means outside in the beautiful garden/back yard surrounded by trees and my beloved Purple Chairs. Not to mention, if you have not visited this charming inn, for those that like a nice long nature walk, simply make a right outside the inn and another right and walk walk walk to beautiful Shelf Road.
Another perk that I appreciated is that after check-out, you can leave your car in the parking lot to enjoy some last minute walking/shopping before you head back to your busy lives. Thanks to Beth and the wonderful staff, I always feel "@HOME. See you very soon.
Nov 28, 2023 | By Lavender Inn
Agri-Tourism is growing in popularity around the world. Essentially it the concept of doing something related to agriculture in the place you are visiting. It is a great way to experience the area, meet local people, and be part of a positive economic impact from tourism. Ojai is home to agri-tourism experiences for every part […]
Read More