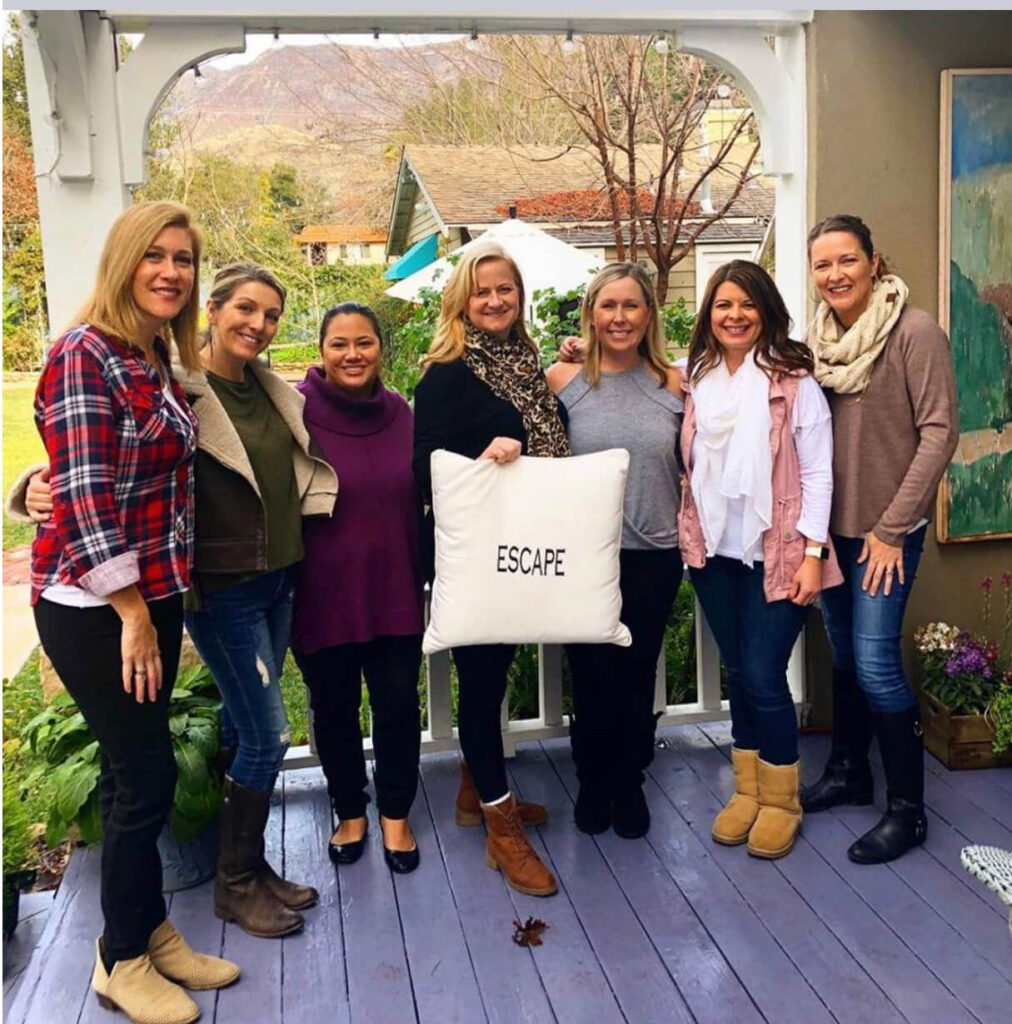 Ojai is a popular location for girls getaways. The Lavender Inn boasts eight guest rooms if everyone wants their own private space. If one or more of your friends reserves The Provence Cottage there will be plenty of space for everyone to gather as a group; the cottage features a separate living room with a fireplace and private backyard. The fireplace is a great place to gather while you sip wine and reminisce about all the fun stories of your friendship. Of course, you can always reserve the entire inn and enjoy the privacy of the grounds for your group alone. Groups of six or more can receive a discount Sunday through Thursday. Gather you best girl friends and plan a vacation to remember.
Yoga in the Backyard
The Lavender Inn strives to provide a spiritual and health-oriented setting. The grounds are a serene environment with shady oak trees, majestic mountain views, and a relaxing fountain. The scent of lavender makes it a perfect place to start your day with a few sun salutations. Do your own routine or ask the innkeepers for assistance in booking a private class in advance of your arrival. Breakfast at the inn is served 8:30-9:30 am. Wake up your body with yoga before or after you eat.
Horseback Riding
The Ojai Valley Trail Riding Company is located within Oso Ranch which is a woman-owned business. They offer one-hour rides that are suitable for all abilities. The rides are done at a walking pace which allows you to fully enjoy the mountain scenery and wildlife sightings. There is also the option for a sunset trail ride. Bring a picnic to enjoy on the ranch after your ride is done. The Oso Ranch has direct access to the Ojai Land Conservancy's preserve. Guests are able to ride directly on the trails without having to traverse on a roadway.
Pottery Class
Ojai is an artist's haven so there are many places to get your creative juices flowing. Firestick Pottery offers one-time two-hour workshops. The workshops include a tour of the studio, an expert-led demonstration, and the opportunity to "throw" five pieces on the wheel. Your creations will be fired and glazed at a later date. If you want to glaze your own pieces, plan a couple of girls weekends around that schedule. Plan a girl's night back at home once the pieces have been shipped. Open everything up together while you reminisce about the class and the trip.
Hiking
Ojai is conveniently located next to Los Padres National Forest. The forest boasts 1,257 miles of hiking over 205 trails. There are two trails within walking distance of the inn. The Pratt Trail is 4.4 miles in length and the Shelf Road Trail is 3.5 miles out and back. Both are great opportunities to get out to explore nature and take beautiful photographs. If you prefer a guided hike, book an experience with Trails by Potter. All guests on the 2-3 hour excursions are provided water, snacks, and waistpacks. Combine two activities by booking one of their activities that includes a hike and wine, olive oil, kombucha, or beer tasting. There is also the opportunity to combine a hike with a visit to a pottery studio.
Beekeeping
Curious about how humans acquire honey from bees? After an introduction by a beekeeper, put on a protective beekeeper suit and enter the apiary. You will have the opportunity to get close to the hives and see the bees in action. The tour ends with an educational tasting of honeys that were pollinated by avocado, eucalyptus, and sumac. Contact Discover Ojai at 866-887-4007 to book this unique experience. And remember that local honey makes a great gift for those back home.
Olive Oil Tasting
If you only have extra virgin olive oil in your pantry then you are missing out. The Ojai Olive Oil Company has been voted the best tasting room in Ojai for 12 years in a row. Their bestselling olive oils include oils infused with garlic, lemon, Ojai pixie, Tuscan herb, basil, or rosemary. They are open seven days a week and visitors may sample all their olive oils while learning about the products. The shop also features balsamic vinegars and olive oil skincare products. The farm is a third-generation family-owned business and they are excited to give guided tours and tastings on Wednesdays, Saturdays, and Sundays.
Wine Tasting
Visit one of these local tasting rooms with your group of gals. The Ojai Vinyard tasting room boasts over 300 wines to try. The Naturalist features natural, pure, and organic wine. Majestic Oak Vineyard accepts reservations for groups of seven or more at their downtown tasting room. Do not forget to pick up a bottle to enjoy back at the inn at the end of the day.