Experience the breathtaking beauty of the Ojai, known as an artist's, spiritual, and naturalist's outdoor sports paradise. The creative culture, the charming Ojai Village, and the majestic setting of the Ojai Valley provide memorable activites, and these are some of our favorites. Our friendly staff is happy help make arrangements during your visit in Ojai.
Hiking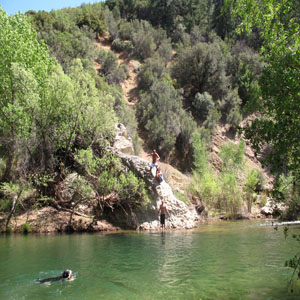 Situated at the edge of 2 million acres of the Los Padres National Forest, Ojai offers myriad opportunities to trek, hike, mountain climb and camp. Whether you walk along paths at Ojai Foundation or Meditation Mount overlooking the valley (which resembles Tuscany) or you hike up to watering holes and waterfalls, you will want to return. Just within walking distance to the Inn, there are 2 trails, Pratt trail & Shelf Road trail, just around the corner and up to the top of Signal Street. Ask our Innkeepers how to get there. For the ultimate hiking tours, you'll want to talk to Stacy & Ian of Trails by Potter. They'll take you on guided hikes that include learning about the native flora, herbs & history. They also have package tours that include, Hike & Wine and Hike & Olives.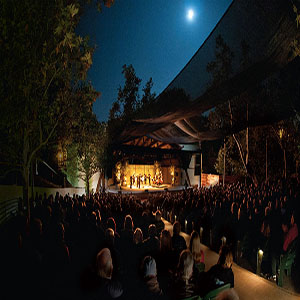 Events
Special events during the year include the Ojai Music Festival (www.ojaifestival.org) , Ojai Film Festival (www.ojaifilmfestival.com), Ojai  Wine Festival, Ojai Playwrights Conference, Ojai Studio Artist Tour, Art in the Park , The Ojai Tennis Tournament – one of the oldest tennis tournament's in the U.S.
Biking
Ojai has an abundance of biking options for everyone, whether it's a simple ride through the Village, a rugged mountain bike through the countless trails in the canyons & foothills, or a scenic street ride through the endless, winding roads in the Valley. The favorite ride is the 20-mile bike path from Ojai to the ocean! Two places you have to check out are Trails by Potter & the hip MOB shop, where you can rent bikes around the corner from the Lavender Inn. If you bring your bike, you can store it inside our garage or lock it up outside in the back garden.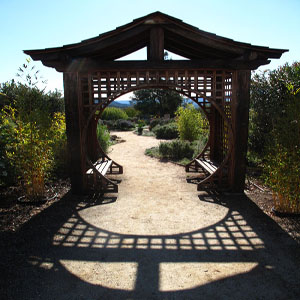 Meditation Mountain
Take a short drive up the hill at the other side of the valley for a peaceful setting with a view, a spiritual sanctuary center on 32 acres of land! Take walks, enjoy guided meditation and yoga. One of the attractions of Meditation Mount is its natural setting and access to the abundance of Nature's beauty.  One of the objectives is to preserve as much of the serene feeling as possible so access is limited. Call: 805-646-5508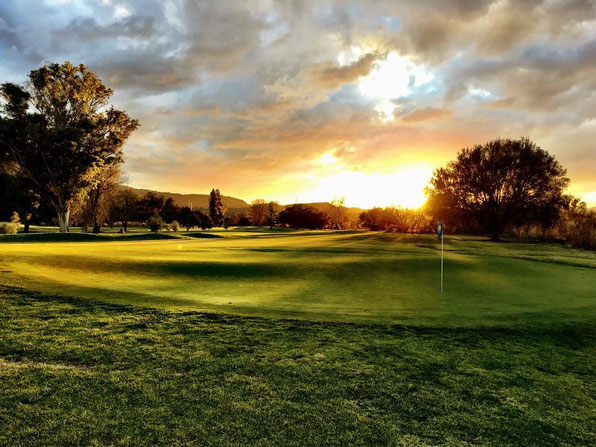 Golf
Our local golf courses are breathtaking! Try both outstanding, picturesque golf courses, www.ojairesort.com and www.soulepark.com.  At both courses, breakfast and lunch are excellent.
Rock Climbing
Rock Climbing is popular in the Ojai Valley, and Ian from Trails by Potter, is happy to take you there!  Climbs are tailored to each individual's level of fitness and experience and is available to first time climbers, novice, intermediate and advanced climbers. The climbs are approximately 80 feet in height; you will need to be in moderate shape and have good balance. Strength is not essential. Your rock climbing experience will take you into Ojai's beautiful mountains and foothills. Call  800-255-8175 to learn about the packages.
Bart Books
This is Ojai's landmark outdoor bookstore, a collector's paradise of used books. This is just 2 blocks down the street. 805.646.3755 www.bartsbooks.com
Beatrice Wood Center for the Arts
See the permanent collection of renowned artist Beatrice Wood and contemporary artists. Gallery is open Sat. & Sun. 11-5. www.beatricewood.com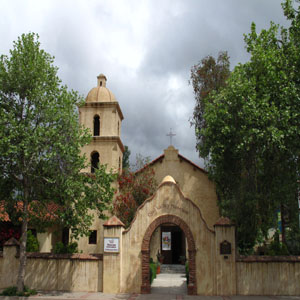 Ojai Museum
Relics of yesteryear together with artifacts of the Oak Grove people and Chumash Indian cultures are displayed. Attractions often include local Ojai artists. www.ojaivalleymuseum.org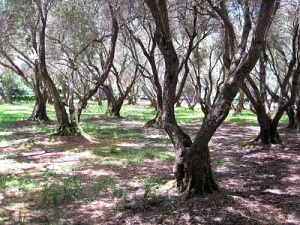 Art & Olive Tour of Ojai
For a special afternoon, visit the studios of some of Ojai's premier artisans including the famous potter Otto Heino. Tour our olive groves & taste the varieties of our award winning oils, open 7 days a week, 10a-4p.  www.OjaiOliveOil.com
Plays
Call 805.646.0117 for schedules at Ojai Art Center.
Swimming & Exercise
Ojai Athletic Club – One free day pass is available to use the club to swim in the Olympic-size pool, play tennis, or exercise in a class or weight room for a small daily fee/person. Check with our innkeeper on the small fee for additional passes to the club..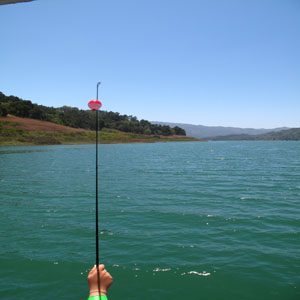 Boating and Bass fishing  
Less than 15 minutes away at Lake Casitas is one of the best bass-fishing lakes in the world. So much fun on a hot sunny day!  For boat rentals and info go to www.casitaswater.org 
Surfing
20 minutes to the beach in Ventura. With advance notice, we can arrange surf lessons.
Tennis
Local Stacy Potter teaches individual, group, stroke production, and game analysis. She has played professional tennis and was on the USC team. Call 805-646-0382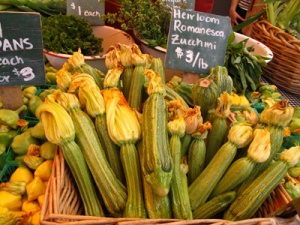 Sunday Trip
Arrive in Ojai and park at the Lavender Inn. Peruse the Sunday Farmer's Market, only 2 doors away, for fresh, local items. Keep your fresh purchases in our frig until you leave the next day. Return for a lunch cooking class from 1-3:30. Relax and enjoy the rest of your evening at the Lavender Inn and a dinner at one of the restaurants across the street. Monday morning take a hike before breakfast! Just go around the corner and up the hill to the start of Shelf Road where you can capture the warm colors of the tapestry of Ojai!
Ojai is truly an experience for everyone! There is so much more… Spas, Restaurants, Workshops, Seminars, Festivals, Skateboarding Park… You name it, the Valley has it!