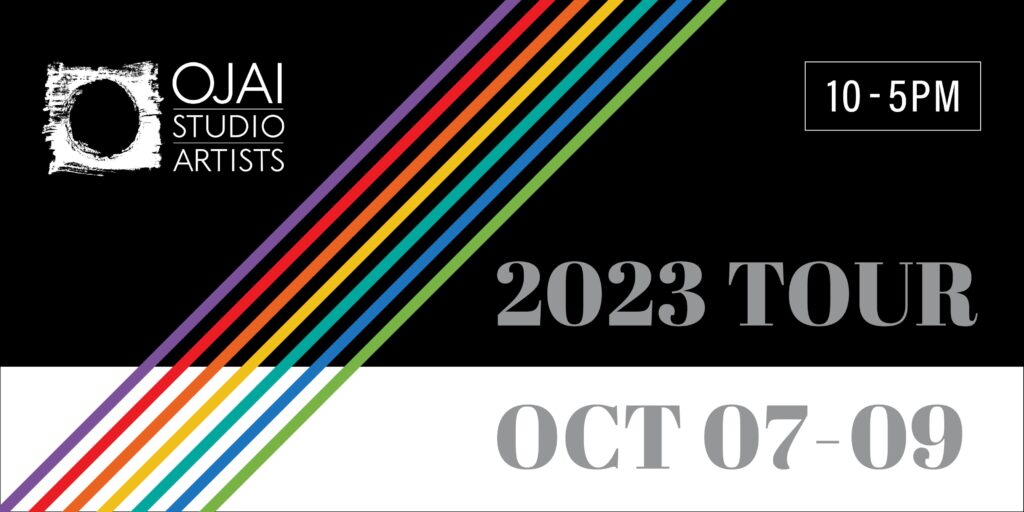 Fall is the perfect time to travel. You probably had a vacation over the summer and the last thing you should do is wait around until next summer to get away. The best thing you can do is plan little retreats for every season. This way you always have something to look forward to, even on the last day of a current vacation. Luckily, there are lots of reasons to visit Ojai this fall with a jam-packed events calendar. All of these events are long-standing Ojai traditions spanning from 22 to 40 years running. They are a fantastic way to experience the culture and vibe of Ojai.
Ojai Studio Artists Tour – October 7-9, 2023
This FREE event allows visitors to explore the places where the art is made. The self-guided tour takes people to backyard studios in the heart of town and secluded cabins in the mountains. The longest running studio art tour in the state, the Ojai Studio Artists (OSA) tour is celebrating its 40th year. OSA attracts collectors, designers, creatives, and the curious. It is a unique opportunity to talk with artists one-on-one and learn more about their craft and their inspiration. While the tour is free, it does require registration. Check out the tour website to register for the electronic guide and map.
Ojai Day – October 21, 2023
The history of this celebration dates back to 1917 as a way to honor Edward Libbey's gift of the downtown Arcade, Libbey Park, and the post offer with its 65-foot bell tower. The event was revived in 1991 thank to a local school teacher and historian. Each year, on the third Saturday in October, Libbey Park is transformed into a festival with vendors, entertainment, food, and family-friendly activities. It is true tribute to the local community. The heart and soul of the event is a Mandala that is created at Libbey Fountain. Local artists and community members work together on the Ojai Day Mandala for a couple of days leading up to the opening ceremonies. A full schedule of events will be posted in October. Visitors can expect cultural activities, car and trailer shows, food trucks, and local musicians and entertainers.
Ojai Storytelling Festival – October 26-29, 2023
"It's more than a festival … It's an experience." Now in its 22nd year, the Ojai Storytelling Festival boasts four days, seven tellers, and over 2,000 attendees. The weekend festivities include a reception with the storytellers, spooky stories, a story swap where attendees can receive tips from the professionals, and an evening of naughty tales. Storytellers this year include Tim Lowry who has been touring on the National Storytelling Circuit since 2012, Carmen Agra Deedy who is an award-winning author of 15 books for young readers, Peter Cook who is an internationally known Deaf performing artist, and Vijai Nathan who has been named "one of the top two South Asian comics in the world to watch." Many of the performances have American Sign Language interpretation scheduled. Come for the stories and leave with a few of your own.
Ojai Film Festival – November 2-6, 2023
When the festival began in 2000, it had two goals: "To provide audiences with opportunities to see groundbreaking work otherwise inaccessible," and "To provide filmmakers with an enthusiastic audience including film industry professionals." Those goals have expanded with the inclusion of Focus Earth which highlights environmental issues. Attendees can expect a diverse set of films; past years have included entries from 43 countries. High profile visitors are attracted to the festival because of close proximity to Los Angeles and the quiet yet artistic environment. Early bird tickets prices are available until October 31.
Ojai Holiday Home Tour and Marketplace – November 11-12, 2023
Get into the holiday spirit by touring homes in Ojai. Visitors will get to experience the holiday décor alongside sophisticated art and home styling. Past homes have included an elegant 1920s George Washington Smith home and a cozy home with peaceful views. The variety of architecture, design, and holiday decorations are sure to inspire anyone looking to create their own personal home style. The event also features a free holiday marketplace in Libbey Park. The marketplace in open to the public and boasts specialty vendors and artisans with gift ideas for your entire shopping list. Tickets for the holiday home tour will go on sale on September 13, 2023. Tickets benefit the Ojai Music Festival as well as free music education and enrichment activities for students.