Seven Ways to Be a Wellness Traveler in Ojai
Ojai, CA, is full of opportunities for taking care of you. Each year, visitors flock to the area to revive their senses, recharge their mind, or simply just relax their body. Ojai is known for its small-town charm and bohemian vibe. You will not find big chain stores here, instead you will be delighted by family-run stores that focus on local goods. The natural beauty of Ojai surrounded by the Topa Topa and Sulpher mountains, nestled in a green valley, calls people to step outside and enjoy the fresh air. The laid-back culture promotes spas, yoga studios, and spiritual places where locals and visitors thrive.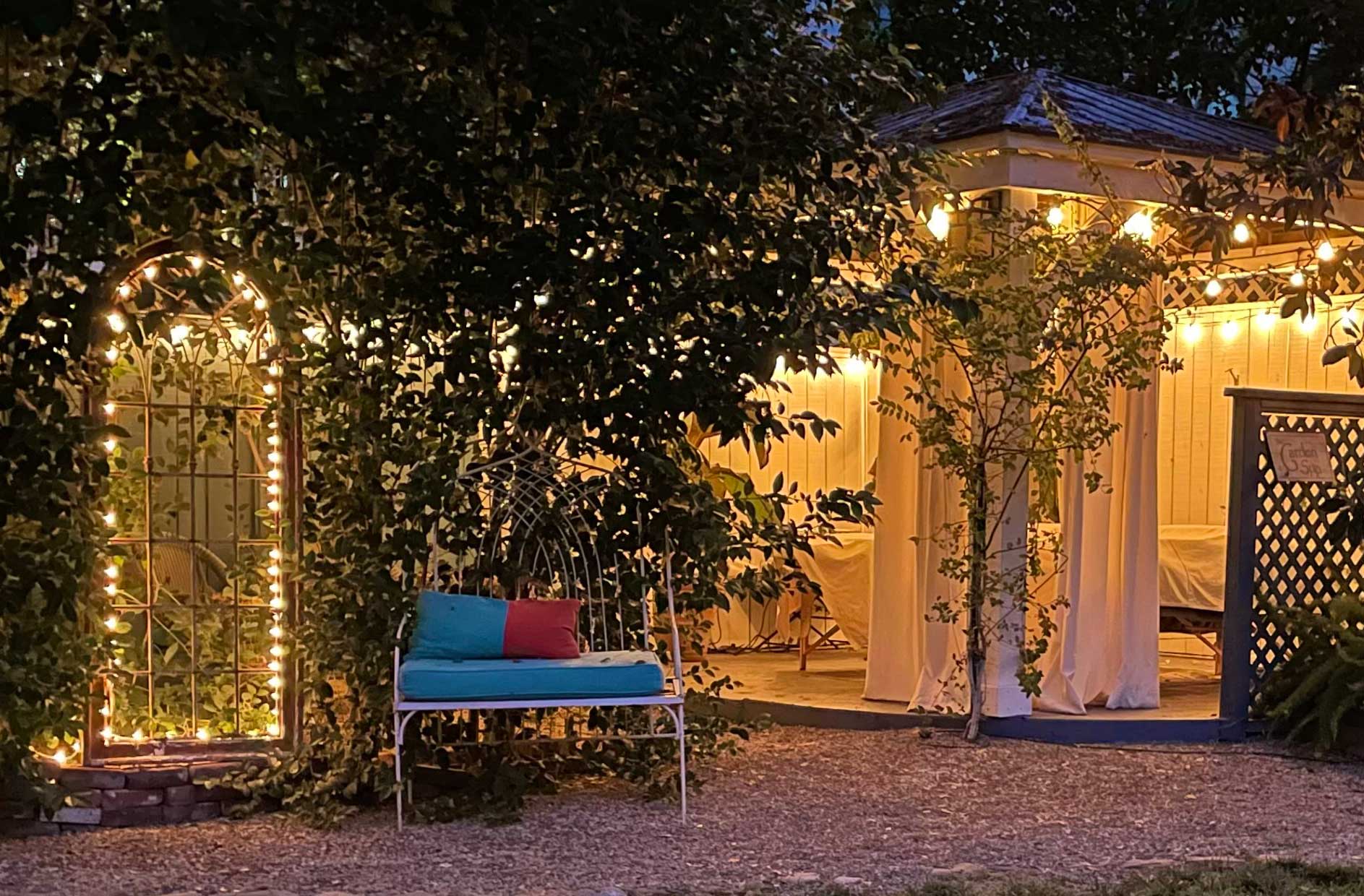 1. Treat yourself to a spa day
A massage can help with body aches and stress relief and can also aid with digestion, detoxification, weight loss, and general women's health. The Ojai Garden Spa is right outside the front door of the Lavender Inn. Book a Swedish, deep tissue, or hot stone massage. Polish and nourish your skin with a body exfoliation. Schedule a foot bath in the English gardens and give them the pampering they need after a hike with a view, just around the corner and just up the hill. The Garden Massage Gazebo in our back garden is open year-round and is the most popular spot for individual or couples massages. If you stay in the Cottage indulge with a massage in front of the fireplace in the Cottage living room. Call for specials available for guests of the Lavender Inn.
2. Let your senses be your guide
The secluded sitting areas in the gardens at Lavender Inn can be a place of refuge at night. The scent of lavender and flowers fills the air. The night sky is full of stars. The trickle of the fountain blends away the sounds of the hectic world. It can be a quiet space to meditate or reflect on your activities for the day. We often forget to take time for us away from noise and technology. Leave your phone in your room and simply be in the moment.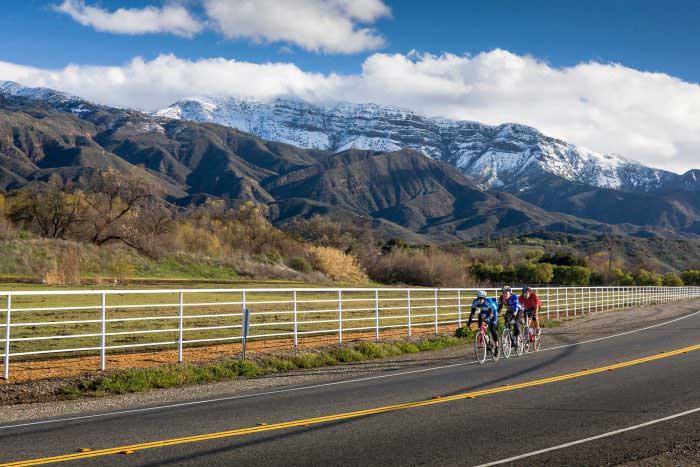 3. Get your heart pumping
Exercise is one of the best medicines available. Imagine exercising while taking in beautiful views of wooded areas and riverbeds or views of the tapestry of Ojai. Spring brings a blanket of colors with the wildflowers in the hills and the tapestry of Ojai orange trees if you look down from one of the hiking trails. The Ojai Valley Trail offers a journey from Ojai to the beaches in Ventura. The trail is popular with bicyclists, runners, and walkers because half of the trail is paved. There are multiple scenic overlooks along the way and benches that make for ideal resting spots. Want a unique selfie spot? Stop at one of the art installations along the trail. Once you make it to Ventura, you can continue along a bike path to the ocean. Take a break for lunch before heading back to Ojai. The Ventura to Ojai direction has more uphill spots. Prepare yourself for the hills or arrange for transportation back after your downhill ride to the beach. Bring your own bike with you or rent bicycles right around the corner from the inn at Mob Shop. If you prefer an easier ride, you can rent electric bikes at Ojai Electric Bikes.
4. Enjoy the sites on horseback
The Ventura River Valley is full of picturesque trails. Stables such as the Ojai Valley Trail Riding Company take riders of all skill levels on day or sunset rides from the Oso Ranch. The ranch has direct access to the Ojai Land Conservancy where you will see panoramic views of mountain ranges. Keep your eyes open for wildlife visitors along the way. The reds, pinks, and orange sunsets reflecting off the Topa Topas, known at the infamous Pink Moment, are even more spectacular while riding atop a horse. Many of our guests like to order a picnic-to-go (we can recommend) to enjoy on the ranch after a sunset ride. Another stable is the Los Padres Outfitters, just 20 minutes away, and offers horseback rides on the beach. What an amazing memory!
5. Practice yoga with a view
You probably have your favorite local studio and teachers that you have grown to love and trust at home. To enhance your getaway, practicing yoga while on vacation will help reduce stress and focus on mindfulness. A new location and different teachers can also broaden your practice as you try something a little different. The studio building for Light and Space is constructed almost entirely of windows. You can find your peace and strength while focusing on yourself and the views of the mountains. A rare desert plant garden greets guests as they enter the property providing an immediate sense of peace. The yoga studio offers monthly memberships as well as single classes and weekend passes. 
6. Go for a swim or a workout
When it's warm outside, Lavender Inn offers a complimentary pass to Ojai Athletic Club to swim or workout. Just minutes from the inn, OAC has two year-round pools; one for recreational use and relaxing and the other is an eight-lane lap pool reserved for lap swimming only. You will love to cool off in the summer months or warm up in one of the two heated spas. All their pools and spas are cleaned by Ozone equipment which is gentle on the skin, is a certified organic sanitizer and approved by the FDA. You can also work out in the fully equipped gym or participate in a group fitness class. Who wouldn't want to wrap up with a stretch on the outdoor patio with views of the Topa Topa Mountains? A second pass can be purchased at OAC.
7. Let nature guide your meditation
Meditation Mount is a stunning location for enlightenment and compassion. The sacred space is open by registration Wednesday through Sunday. Open hours vary from morning to sunset. It is open to all faiths with an understanding of an open heart and respect for all beliefs. Special events including yoga and sound meditations are available on their events page. Meditation Mount offers an assortment of meditation experiences for in-person visitors, details available on the webpage.
The Meditative Walk takes visitors along a path through the property. It explores the plant garden and ends at a scenic view of the Ojai Valley. Closed-toed walking shoes are recommended along the uneven terrain. It is also recommended that guests bring water with them along the trail.
Guided Audio Meditations are available on your smart phone as you stroll through the garden (be sure to bring headphones). The Universal Principles and Pathways are carved into boulders throughout the space. This is a unique way to explore, especially if it is your first time visiting Meditation Mount or if you are unfamiliar with meditation.
Creative Meditation allows for visitors to contribute to the common good. More information about Creative Meditation can be found here.