Caramalized Amaretto French Toast
If you've stayed at Lavender Inn, you know we don't mess around with our breakfasts. This dish is pretty easy to make AND you can do all the prep the night before, which makes us very very happy.
Ingredients
Servings: 8-12
French Toast:
*1 sticks sweet cream butter
*1/2 cup brown sugar
*2 tbsp light corn syrup
*1 loaf Challah bread or Brioche
*5 eggs
*1 1/2 cup half and half
*1 tsp vanilla extract
*1 tsp Amaretto
*1/4 tsp salt
Strawberry Topping:
*1 cup strawberries
*1/2 cup maple syrup
*2 tbsp butter
*3 tbsp confectioners sugar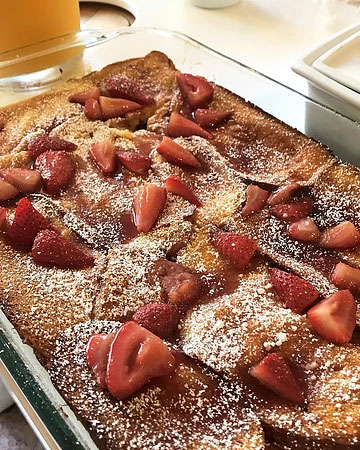 French Toast
1. Over medium heat, in a small saucepan, melt the stick of butter, brown sugar and corn syrup, stirring until smooth and bubbly
2. Pour into 13×9 inch glass baking dish sprayed with a non-stick cooking spray
3. Cut enough one inch thick slices of bread to fill your baking dish and arrange in one layer
4. In a mixing bowl, whisk together the eggs, half & half, vanilla, Amaretto and salt until fully mixed
5. Gently pour the mixture over the bread slices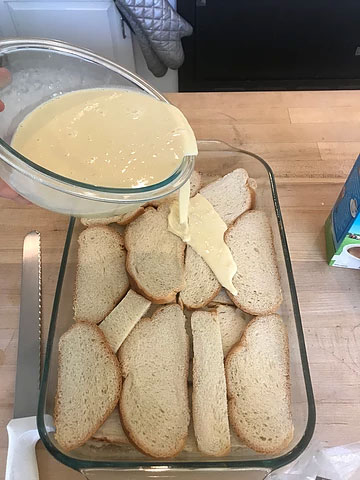 6. If prepping night before, cover with plastic wrap & place in refrigerator for up to 12 hours
7. Bring to room temperature, then bake uncovered at 350 F for 40-45 minutes until brown, checking to make sure edges don't burn
*Tip: To make extra decadent, heat up 4 tbsp of butter and drizzle over the top before baking!
8. Top off with your delicious Strawberry mixture!
Strawberry Topping:
1. Slice your strawberries in quarters
2. In a small saucepan, over medium heat, melt the butter, strawberries and maple syrup until bubbling
3. Drizzle over your French Toast and top with confectioners sugar to make it look even prettier and delicious