Bring Your Dog to Ojai: Seven Ways to Enjoy the Area Together
The Lavender Inn is dog friendly. We love when furry family members visit and we welcome them in two of our guest rooms. The Topa Room boasts a private balcony. Just imagine sitting out there with your dog at your feet as you gaze at the Topa Topas mountain. Traveling with two small dogs? Reserve the Provence Cottage. The Cottage features a private backyard with a fountain, flowers, and outdoor seating; it is like a spa oasis for you and your pet.
The Lavender Inn does require a $50 fee per pet/per stay. Service dogs with a certificate are welcome to stay for free. Dogs must stay with their owners at all times but Ojai loves dogs as much as we do. There are so many activities to explore together in the surrounding area.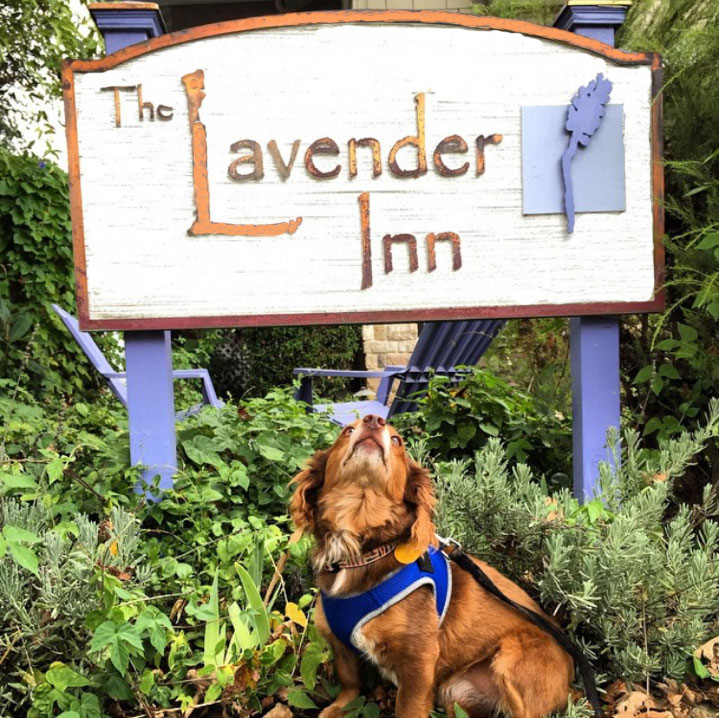 1. Go for a hike
The
Rose Valley Falls Trail
is an easy half-mile hike to the base of a waterfall. The waterfall flows over an arkosic sandstone cliff and is prettiest in the winter and spring months. Depending on rainfall, the falls may be dry in the summertime. Tip: Park along the road outside of the Rose Valley Campground to avoid paying a parking fee.
The Shelf Road Trail is within walking distance of the Lavender Inn. The trail is mostly flat as it traverses the cliffs above along the northern end of Ojai. It is only half-a-mile long but you should dedicate time to spend at the scenic overlooks. The views of Ojai from the trail are spectacular. The unpaved road is popular with bicyclists, runners, and dog walkers.
The Ojai Valley Trail is a 9.5-mile paved trail along the former Ventura and Ojai Valley Railroad. You will most likely see horses along the way because a woodchip path runs parallel to the asphalt path. The trail is popular with dog walkers, runners, and those who simply want to get outside and enjoy sweeping views of the mountains.
The Satwiwa Loop Trail is located about an hour away in the Santa Monica Mountains National Recreation Area. The trail is 2.5 miles long and many people take about 1.5 hours to complete it. Be sure to keep your dog on a leash along this trail because there are often opportunities to spot roadrunners, prairie falcons, hawks, rabbits, deer, and coyote. The leash will keep your dog and the local wildlife safe.
2. Make new friends at the park
Libbey Park is a favorite downtown destination for residents and a highly recommended stop for visitors. It is a great place to let your dog get out a bit of energy if you are spending time around the shops and restaurants.
The Mitchell Edelson Dog Park at Soule Park is a welcoming place for dogs of all sizes. Once inside the dog park, you may take your dog off of their leash. Two separately fenced areas keep small dogs that are under 20 pounds safe from exuberant larger dogs. Sit on a bench under a shady oak tree while your dog sniffs and fetches their heart out. Doggie water fountains are available for when your dog needs to hydrate. Contact Ventura County Animal Services for information on making sure your dog is properly licensed to use this facility.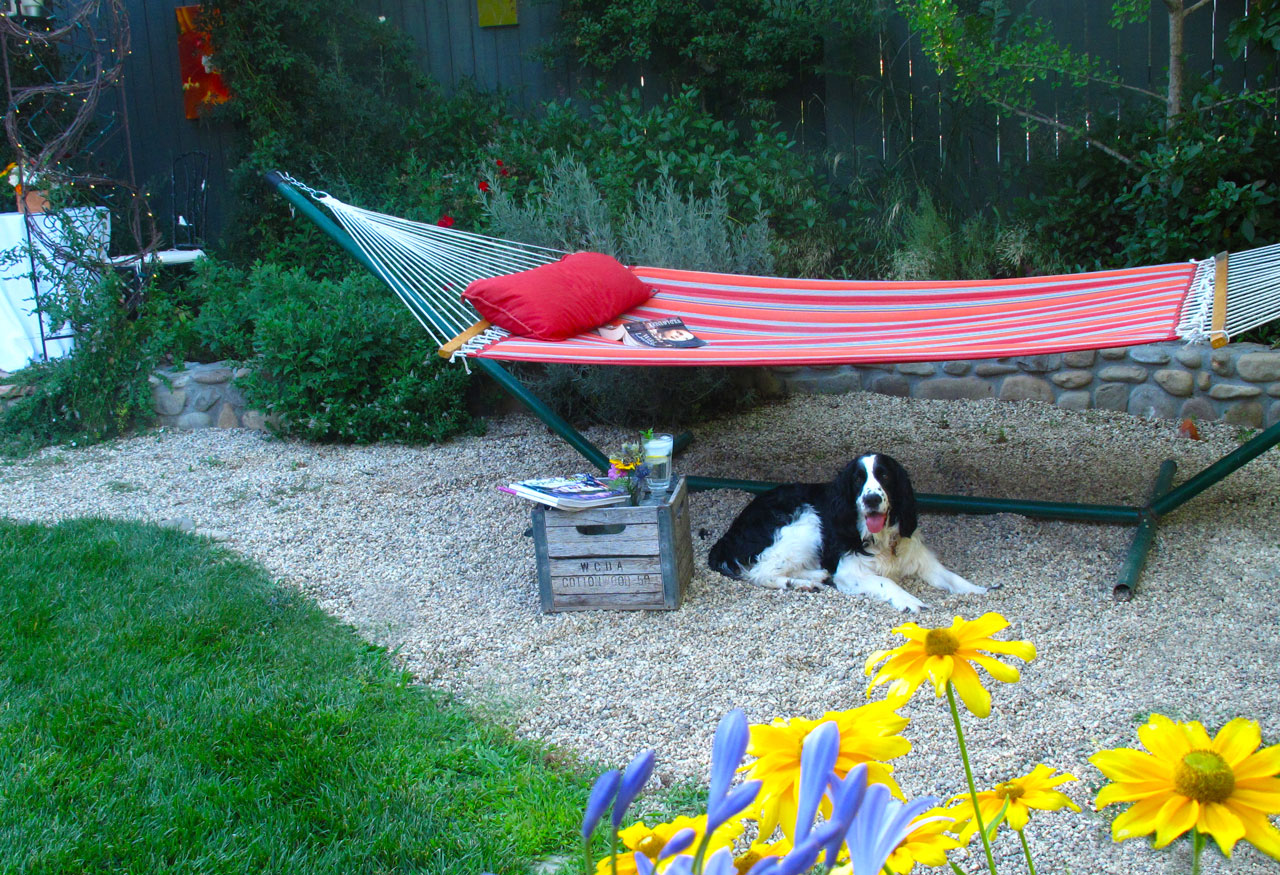 3. Sample some of the local wine and beer
Majestic Oak Vineyard
is a family-owned winery that was established in 2015. Leashed dogs are welcome on the patio where they can enjoy the live music with you. There are two cats on the property so be aware if your dog is not cat friendly. The winery makes both white and red wine and tasting flights are available.
The Ojai Vineyard Tasting Room allows dogs in both the indoor and outdoor tasting areas. Allow the knowledgeable staff to guide you in choosing from over 300 wines. Allow the tasting room manager to give you furry friend some dog treats from her pocket. The tasting room is open daily and reservations are strongly encouraged to guarantee a table.
Topa Topa Brewing Company has a tasting room in downtown Ojai. Hang out on the patio at sunset for a chance to witness the famous "pink moment" as the sun falls behind the Topa Topa Mountains. Leashed dogs are invited to join you on the patio and have their own, non-alcoholic beverage. If you are feeling especially adventurous and traveling to other parts of the state, visit the taprooms in Ventura, Santa Barbara, and Camarillo.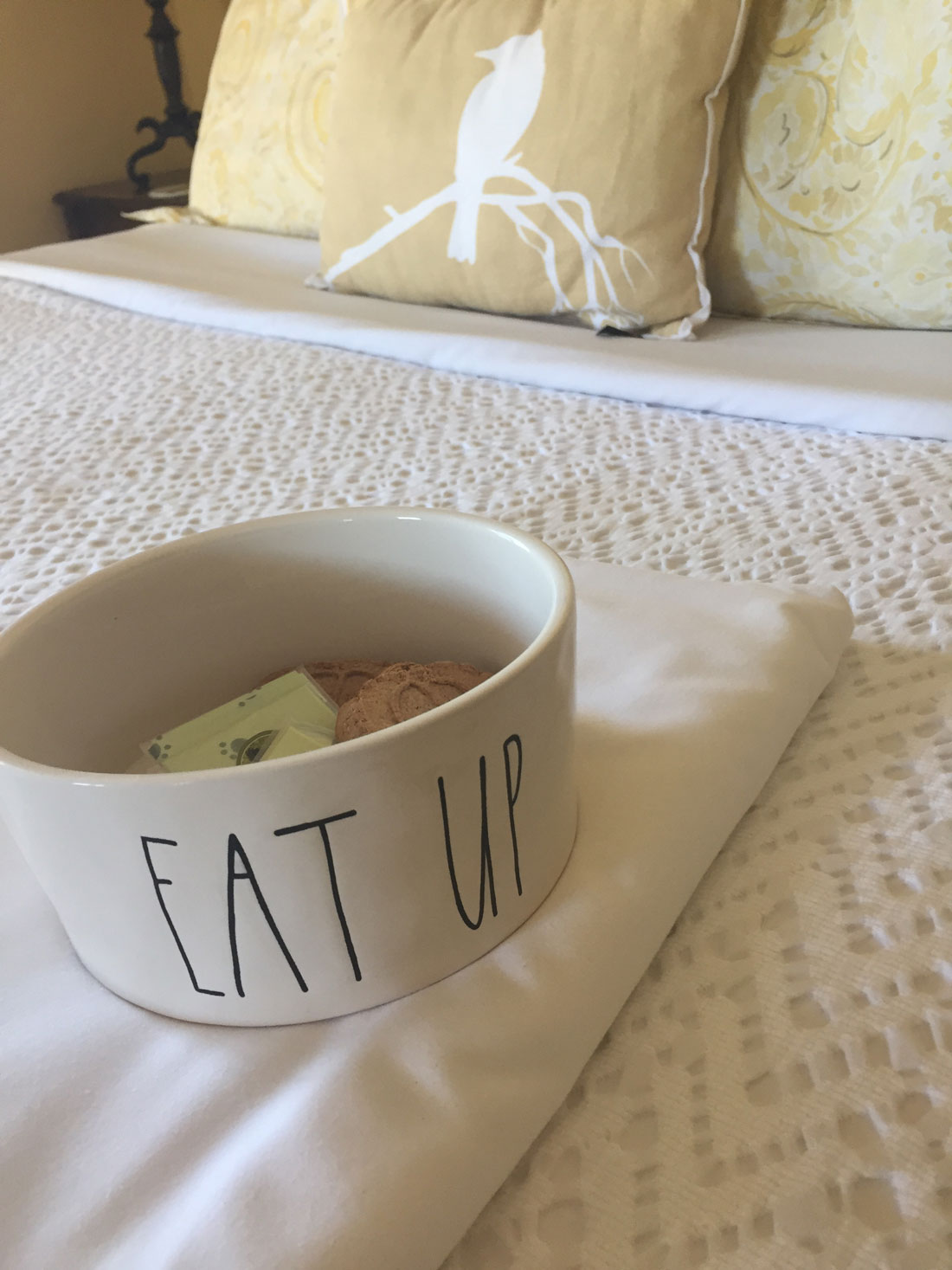 4. Create a work of art while your dog "supervises" the activity
Play with Clay at a Pottery Studio
is a pet-friendly studio. There is a large fenced yard where your dog can enjoy the sun while you work on a vase or bowl. If you prefer, your dog can sit beside you while you work in the open-air space. The experience, including a tour of the studio, lasts approximately two hours. Additional steps including high-firing of your piece will be completed later and your pottery will be shipped to you.
5. Go shopping
Bart's Books
is the world's largest outdoor bookstore. The store opened in 1964 and boasts 130,000 new and used books. You and your pooch can browse the books on the shelves living the outside of the store. Maybe you will find a new book about dogs, or a book with a dog on the cover, or a book about a famous dog. The store is only two blocks from the inn so get as many books as you can carry.
Many of the downtown shops are dog-friendly. Do not hesitate to ask if your dog can come in with you.
6. Go to the spa
So many people treat themselves to a spa day when they are on vacation. They get a massage or a facial. Why should people have all the fun? The
Ultimutt Pet Spa
has 45 years of experience in pet care and grooming. The use all-natural and non-toxic products. This is a chance for your dog to get pampered while on vacation.
7. Go out to eat
Ojai has a long list of restaurants with outdoor dining options. Bring your dog as you dine under the stars at one of these establishments.
Agave Maria's features Mexican style cuisine crafted with ingredients from local farmers' markets. They are open seven days a week for lunch and dinner. Join then Wednesday through Sunday for breakfast. The servers are known to bring a bowl of water for your dog even before they bring drinks for you.
Café Boku boasts a plant-based menu that is loved by vegetarians and omnivores alike. There are tables on the covered patio where your dog can join you for lunch.
Deer Lodge is the oldest restaurant and tavern in Ojai. The menu focuses on classic California cuisine. The full bar features craft cocktails and local beers. Dogs are welcome at the tables on the large patio.
Jolly Kone is an old-style ice cream parlor with hot dogs, grilled cheese sandwiches, and chicken tenders. When you are on vacation, it is also perfectly acceptable to order a sundae for lunch. Dogs are welcome at the seven outdoor tables.
Marché Gourmet Delicatessen is known for their deluxe sandwiches. The deli has a few dog-friendly tables outside. This is more than just a deli, make arrangements to join them for high tea.
The Nest adds creative touches to classic comfort food. Bring your dog along as you savor Sunday brunch on the patio. Check their website for hours. The Nest is closed on Tuesdays.
Nocciola is an upscale dining establishment with an Italian fare. Treat yourself to the five-course chef's tasting menu. Call ahead to secure one of the ten tables that are dog-friendly. The restaurant is open Tuesday through Sunday for dinner.
Osteria Monte Grappa boasts northern Italian cuisine and seafood entrees. Dogs are welcome on the spacious patio. The restaurant is open for lunch on Fridays and Saturdays and open for dinner Monday through Saturday.
Rainbow Bridge is a convenient village marketplace across the street from the inn. The deli has lots of ready-made food options. Pick something up to enjoy on the inn's veranda or find a quiet nook in the garden.
Of course Sea Fresh has an amazing assortment of seafood dishes. They also boast a full menu of steak options and not-to-be-missed homemade desserts. They have two outdoor patios and dogs are welcome on one of them. They are open seven days a week for lunch and dinner. They also feature a breakfast menu on Saturdays and Sundays.
Yume Japanese Burger Café strives to blend Japanese and American culture on their menu. Save room for the mochi waffles for dessert. Dogs are welcome at the tables on the outdoor patio. Yume is closed on Wednesdays.