The Lavender Inn is the Ultimate Retreat for Relaxation and Rejuvenation. Our friendly innkeepers Beth, Laura, Dillon and Tania will help you discover Ojai, a unique town known for its artistic, spiritual, health-oriented and outdoor adventure environment.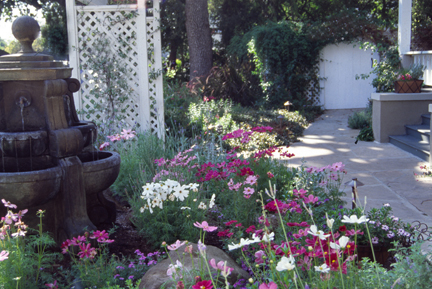 The Lavender Inn has 7 rooms upstairs in the main house in addition to the 8th room, an apartment-sized, 1000 square foot attached Cottage. Each room has a unique decor, artfully designed with a rich blend of period antiques and contemporary but comfortable furnishings, a bold color palette, and attention to detail. Our charming and chic  cottage, with a fireplace, 2 TVs, and private entrance and  backyard , is ideal for a romantic getaway or longer stay with the kitchenette. Relax and read or talk in the main house cozy living room in front of the fire listening to music and sipping wine. The grounds are breathtaking with tall, shady oaks, mountain views, fountains, a small pond and, of course, a variety of lavenders.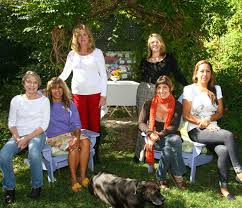 The owners of the Lavender Inn, and Mark Hartley, are passionate about preserving and restoring historic buildings. Their love for keeping the integrity of old buildings and attention to interior is evident when you visit Lavender Inn and their renovated historic buildings in Ventura. Beth, the manager/innkeeper/wedding planner has a background of private chef and owning – and cooking for – her cafe.  Our innkeeper Laura started her business, Ride or Dye, a tie dye clothing with natural dyes. In March 2022 she opened a rustic, hip shot, Ride or Dye on Ojai Avenue.  Dillon is our innkeeper and social media guru, has a background in hospitality and 4 boys to keep her busy. Tania has been working at the Inn as a housekeeper since she was 16 and she was so friendly and knowledgeable that we wanted her to be an innkeeper.  This team's friendly hospitality are one of the reasons we have so many return guests. Another crucial part of our Lavender Inn team is our housekeepers – Conchita, Lilia, and head of housekeeping Genoveva, who has been at Lavender Inn since 2002!  They make the Lavender Inn sparkle because it is consistently immaculate, even before we started using the COVID Safe protocols!
We take pride in giving back to the community! We offer InnCourage, our Cancer Wellness Retreats (free to underserved women), and Kathy is active on the board of  Ventura Country Interface Children and Family Services, and works with the educational domestic violence and human trafficking programs. At the Lavender Inn we have been awarded for our community efforts: 2018, 2019, and now 2020 1st Place BEST OF OJAI VALLEY  Bed & Breakfast/ Motel/Inn, 2018 Interface Children and Family Services Domestic Violence Prevention Champion, Humanitarian Award – Ojai Valley Chamber of Commerce, Ventura County Star Best of 25 Over 50 Award, Women's Economic Venture Trailblazer Award, Red Cross Philanthropist of the Year, Girl Scout Women of Distinction, and Ojai Valley Chamber of Commerce Entrepreneurial Spirit Award. We will continue to support our community, making it a better place for locals to live and for tourists to visit.
Our goal is to provide our guests the ultimate accommodations in the desirable setting of Ojai, Ca. We strive to create an environment that is welcoming and accommodating to ALL individuals, regardless of race, religion, gender, language or disabilities. We have innkeepers on staff who speak Spanish and American Sign Language. Our website and reservation system are both ADA compliant.  If you have difficulty navigating our website or questions about our buildings, please call or email us, and our helpful staff will be more than happy to assist you. Please note our historic property is not fully ADA compliant having 7 of the 8 rooms upstairs.  We have previously accommodated people with wheelchairs on the main floor. We are in the process of  adding on two rooms, one of which will be a beautiful  ADA room.  We want you to be able to choose the best lodging that is accessible and meets your needs.
"Once again, a beautiful stay. Lavender is the perfect place to rejuvenate your soul. Excellent breakfast, pleasant and helpful innkeeper always"